This blog post contains affiliate links. As an AirBnB associate we may earn a small commission to fund our coffee drinking habit if you use these links to make a purchase. You will not be charged extra, and you'll keep us supplied with caffeine. It's a win for everyone, really. Check out our Disclosure policy for more.
Hiriketiya Beach in the south of Sri Lanka is a surfers dream. With golden sand and a palm tree-fringed horseshoe bay, this beach is where the jungle meets the sea. It creates a beautiful clash of greens and blues. It is a hidden paradise growing in popularity. Many surfers drawn by its iconic waves and holidaymakers enjoying the excellent cafes and soaking up the Sri Lankan sun.
This hidden beach has a sleepy feeling. It is located near to the hustle and bustle of Dikwella town but feels like a million miles away. Hiriketiya beach allows you to do as much or as little as you wish. Head to the beach for some sunbathing, attend a yoga retreat or explore the local area.
Let's jump into the best things to do at Hiriketiya Beach.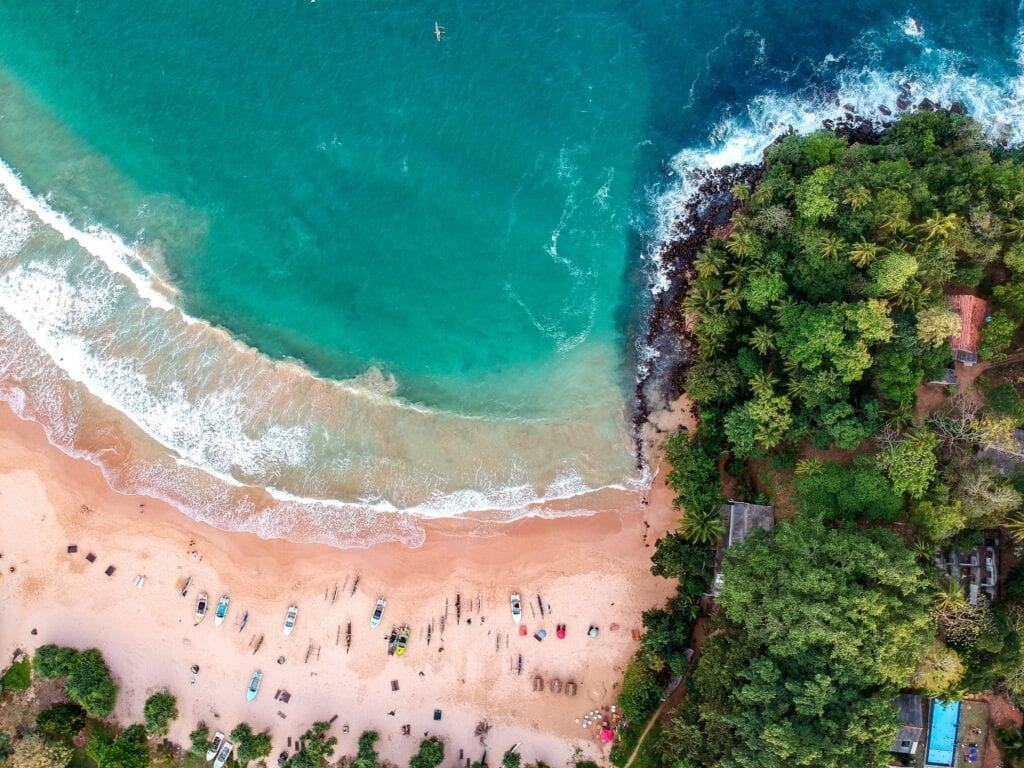 Chill at Hiriketiya Beach and watch the surfers
Hiriketiya bay is the most beautiful beach. The curved sandy beach backed by rustic cafes and restaurants all surrounded by coconut palms, it's easy to see why. The word Paradise is the single best way to describes Hiriketiya Bay. The vibes, the people and the place itself.
Even with bad weather and rain pouring down, we found ourselves walking to the bay and taking shelter. Head to 'Blue Bay Chillout Lounge', sip on a cocktail, read a book while looking out to the bay, watching waves come in.
How to Find Hiriketiya beach
From the main road, there is a small road that turns into to dirt track. It is wide enough for a single car that leads you down to the beachfront.
Take a Yoga Class or Retreat at Salt House
Salt House offers daily Yoga sessions that vary depending on your experience level and style. With their open-air Yoga Shala with Jungle views, it is the perfect place to experience Yoga.
Where | Salt House
Cost | Check out upcoming retreats here
How to get here | Walking distance from Hiriketiya Beach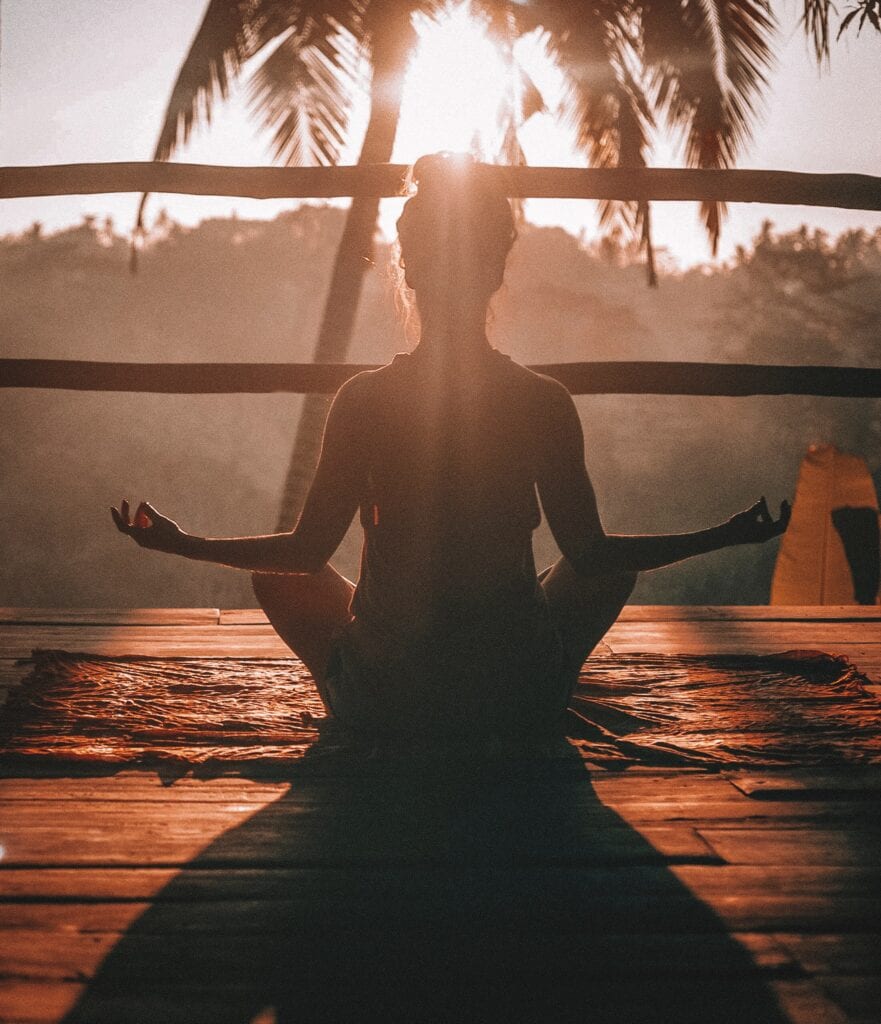 Head to Dikwella Beach
Dikwella beach is only a short drive from Hiriketiya Bay and it has an excellent rope swing. At the time we visited, it was free, but this was in the rainy season. The sea can be a great place for a swim.
Eat local food from a Bohemian Bright Orange bus.
On the beach front there is beautiful bright orange bohemian bus. Local rotti and Kottu is cooked here and it is a perfect place to sit with your toes in the sand and enjoy incredible local food.
Take a Surf Lesson
Salt house also offers surf retreats. Due to the horseshoe shape of this beautiful cove, the sea is slightly protected, making it a great place to learn to surf. From December to February, the waves are perfect for beginners. After this, they are better for more advanced surfers.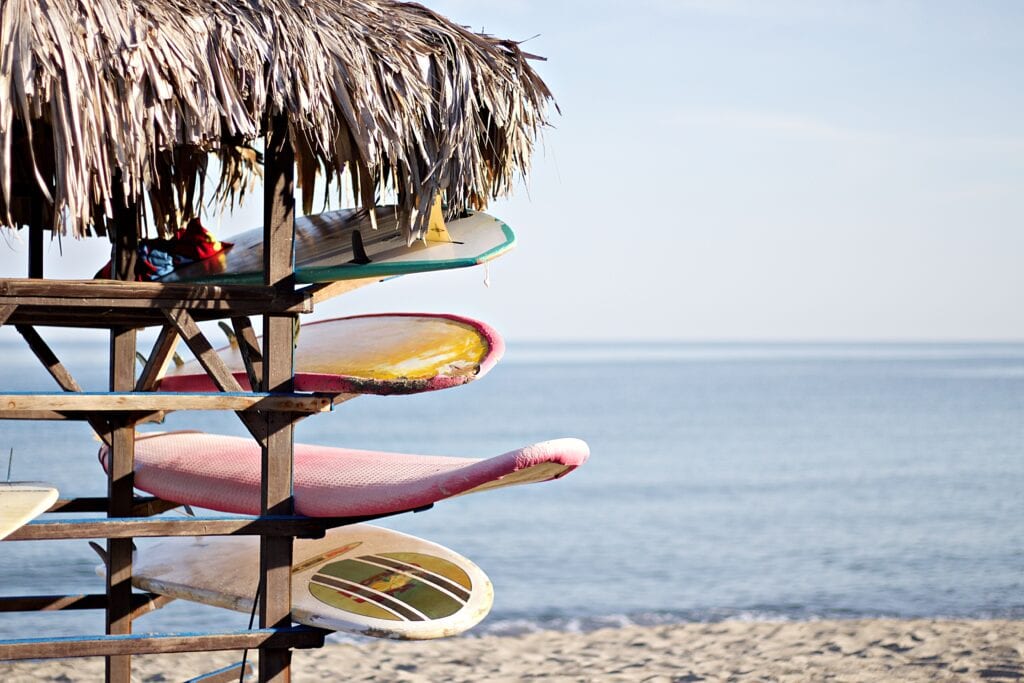 Enjoy a Smoothie Bowl at Malu Poke
We found ourselves eating here most often. Sometimes for breakfast and lunch on the same day. The food was excellent and at a reasonable price. We would head under the covered seating area on rainy mornings, grab a bowl, and chill for a few hours.
Where | Malu Poke
Cost | Poke Bowl is 1200rps
How to get here | Walking distance from Hiriketiya Beach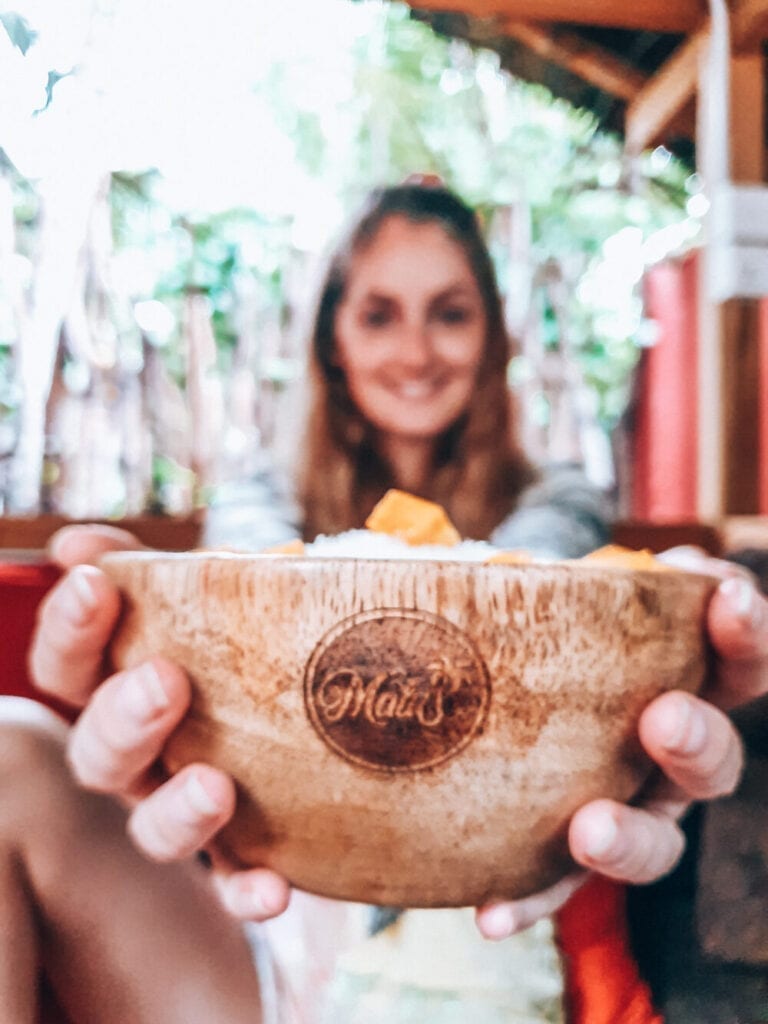 Stay in a homestay and eat the best local food at Rosies
We met some local ex-pats who took us to Rosie's homestay for dinner. The food was the best we had in our whole Sri Lanka trip. Rosie herself was the most welcoming, kind woman and the experience was so authentic. Sitting around a massive farmhouse table filled with local food, talking to backpackers and hearing local stories. This experience is so special.
Details
Where | Rosies Homestay, did you know you can stay here too.
Cost | Cost depends on the food being offered.
How to get here | Walking distance from Hiriketiya Beach
Visit the Southernmost point of Sri Lanka, Dondra Lighthouse
The lighthouse and grounds are charming and impeccably kept. However, we would say visit this lighthouse if it is convenient to do so, we wouldn't go out of your way to visit. You cannot enter the lighthouse, but it is nice to walk around and get some pictures. 
Details
Where | Dondra Lighthouse Road, Dondra
Cost | Free
Opening hours | 09:00am – 19:00pm every day
How to get here | Local bus is 50r one way from dickwella Tuk-tuk 500-800r depending on passengers
Catch Sunset at the Beach from Dots
Dots is a beautiful spot to enjoy the sunset. With a daily happy hour, there is nothing better than indulging on a half-price cocktail and watching the sunset over the rugged cove. Dots is a great place to chill and chat to other travellers and play a game of cards.
Head to Udawalwe Safari for an incredible safari experience
Udawalwe safari is around an hour and a half away from Hiriketiya bay. However, it is worth it for the incredible Safari experience. Udawalwe Safari offers you the chance to see freshwater crocodiles and hundreds of free-roaming elephants.
On our trip, we saw suckling newborn elephants, crocodiles and an elephant with massive tusks. Only around 10% of male elephants in Sri Lanka have Tusks!
Places to stay in Hiriketiya beach
Airbnb at Hiriketiya Beach 
Sukha House: A very spacious two-bedroom villa with a living room and kitchen. It even has a private pool and outdoor shower and surrounded by large palm trees.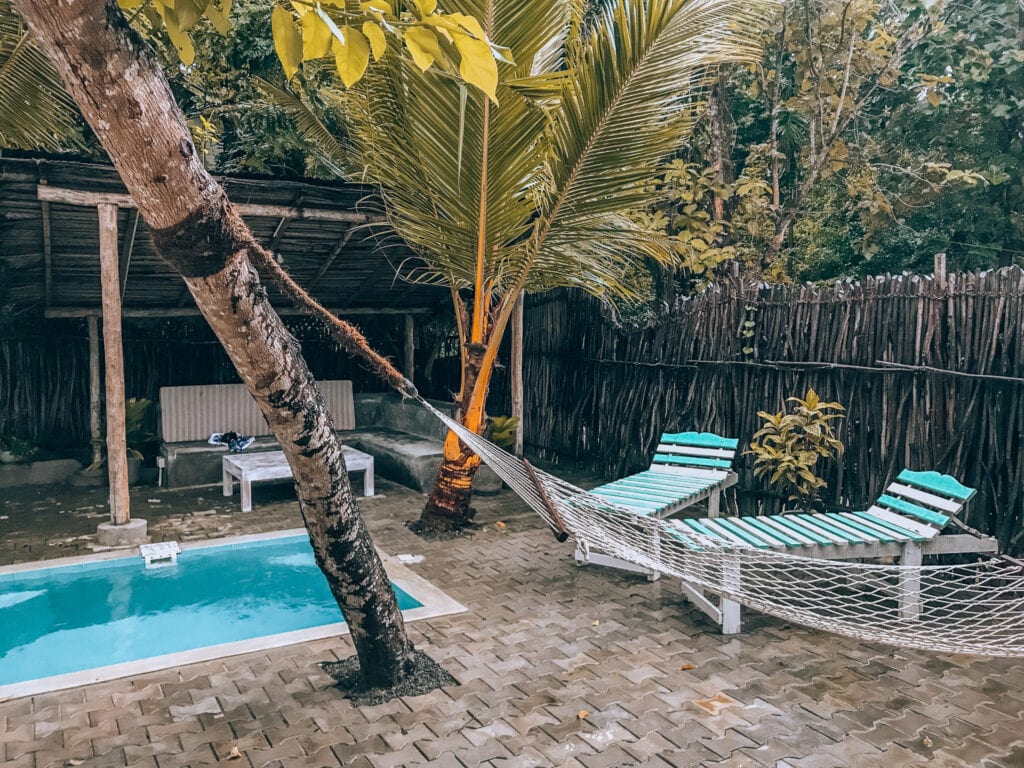 Hotels at Hiriketiya Beach 
Salt House: The vibes here are very beachy and chilled. This hotel has everything you would need for an enjoyable stay, beautiful rooms, a fantastic restaurant and even a dedicated yoga studio.
Travelling to Sri Lanka: check out our complete two-week guide here.
Local Homestays at Hiriketiya Beach
Cinnamon House
Lazy Monkey
Rosies
Other places to eat in Hiriketiya Beach
Salt House: a little walk away from the beachfront, you can find Salt House. Salt House is a very chilled hotel that serves some fantastic food and drinks. Their coffee here is incredible too.
Bahia Hiriketiya: just a few short steps away from the beach, you will find Bahia Hiriketiya. They serve an array of food, even vegan pizza. Yes, Vegan Pizza. There are a few options, all of which can be served with vegan Mozzarella cheese.
Blue Bay Chillout Lounge: this is a beautiful location just to the West of the bay up the hillside looking out to the bay. Blue Bay is a great place to get your Sri Lankan curries and sides. We would order a whole table worth every time we went.
Have Brunch at the Grove: 2021 Update: The Grove is currently closed due to the pandemic. We will update this post if the Grove opens again.
Are you planning a trip to Sri Lanka? Check out our guide to the most beautiful places in Sri Lanka here.
Where to after Hiri bay?
Mirissa
Mirissa is an incredible beach town famous for whale watching. This iconic beach town is filled with beautiful wall art, beaches and great places to eat.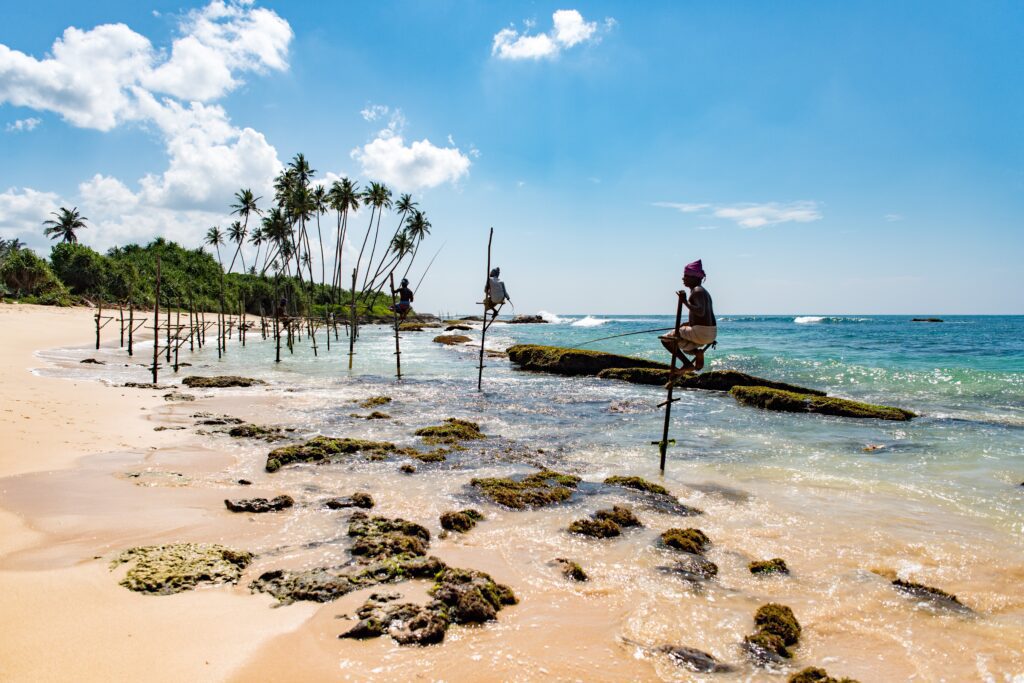 Udawalwe
Head to Udawalwe for incredible safaris filled with elephants, crocodiles and unique birds. Udawalwe is also home to one of the only ethical elephant sanctuaries in Sri Lanka. There is a beautiful elephant orphanage.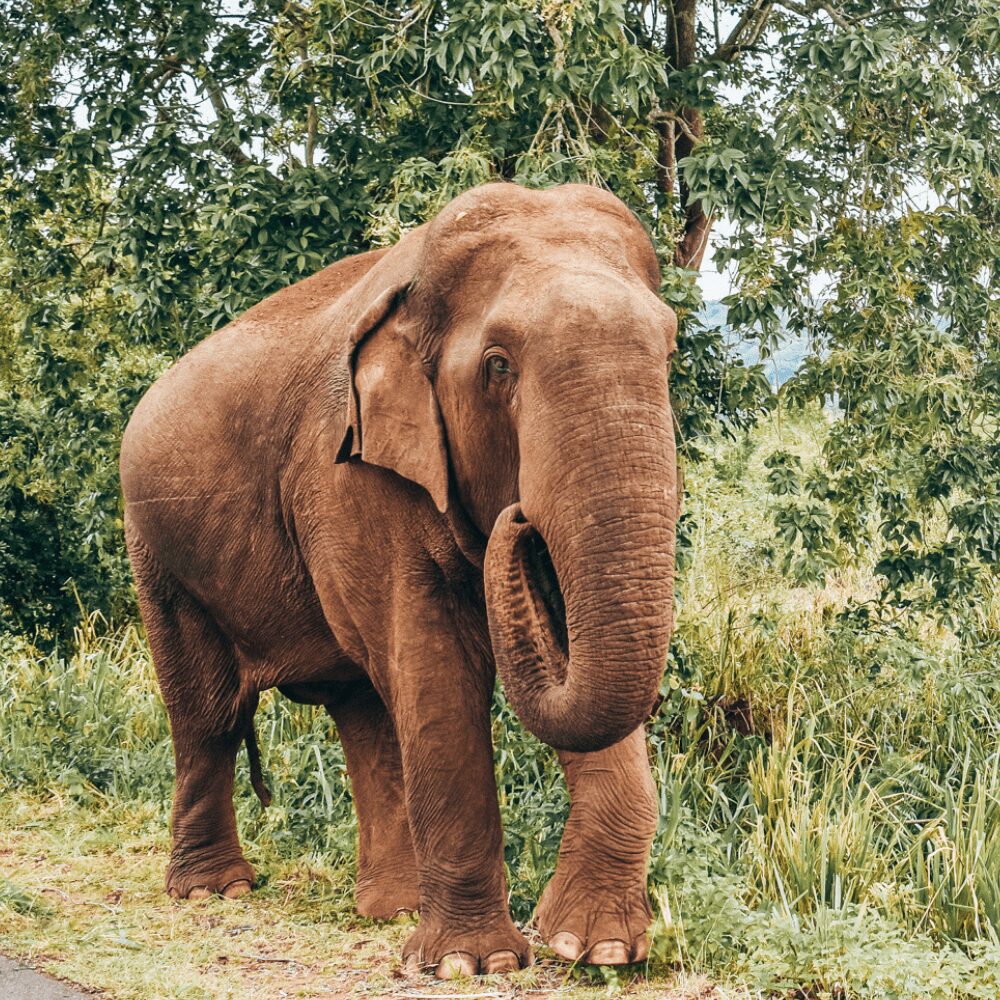 Summary of our guide to Hiriketiya beach and the best things to do
We fell in love with the beauty of Hiri bay, and it was one of our absolute favourite places in Sri Lanka. We know you will love this hidden slice of paradise in the south of Sri Lanka. Whether you chose to surf, fill your days with Yoga or simply do nothing, Hiriketiya is the place to be.
Check out our other Sri Lanka Blog Posts here: