This blog post contains affiliate links. As an AirBnB associate we may earn a small commission to fund our coffee drinking habit if you use these links to make a purchase. You will not be charged extra, and you'll keep us supplied with caffeine. It's a win for everyone, really. Check out our Disclosure policy for more.
Nuwara Eliya is a calm retreat, famous for its tea plantations and cool streams bathing a backdrop of green mountains and valleys. Here are a few of the most beautiful waterfalls in Nuwara Eliya you must explore.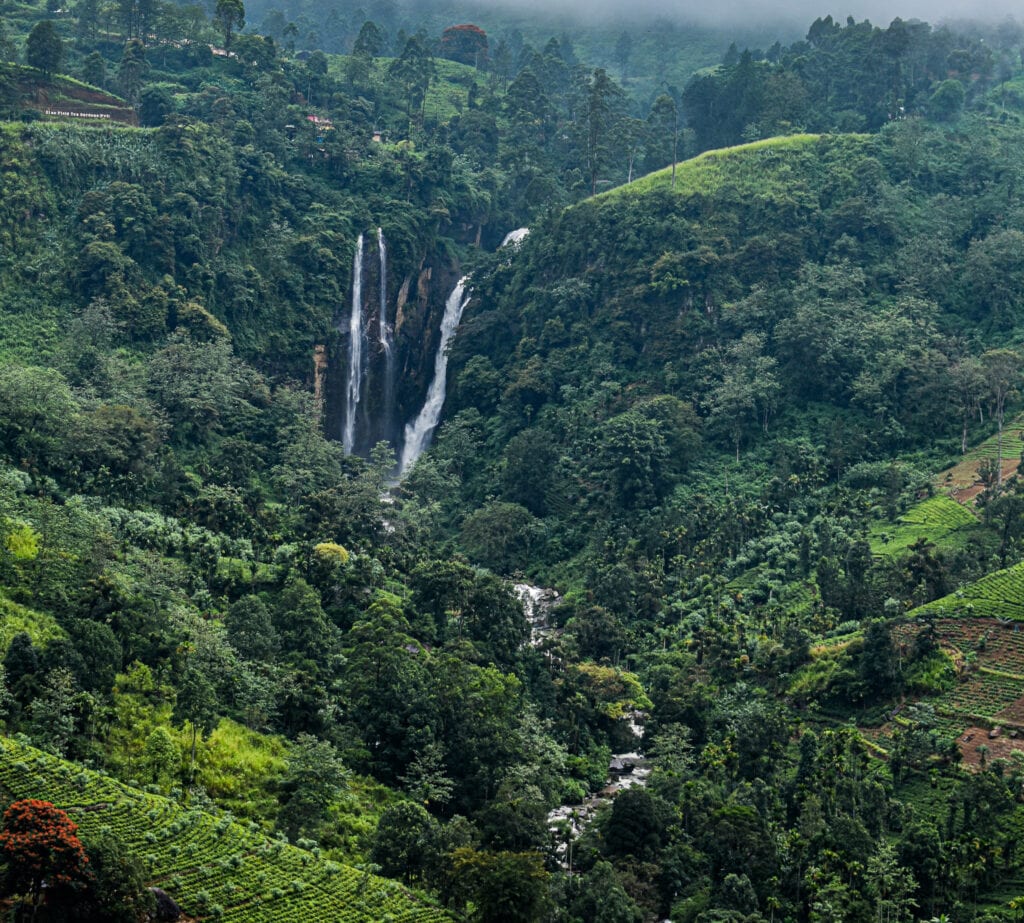 Lovers Leap
This waterfall was our favourite in Nuwara Eliya. It is a bit of a trek from the centre of Nuwara Eliya, but that adds to the adventure. 
If you are staying in Nuwara Eliya, it is worth calling a tuk-tuk to come and collect you to take you to Lovers Leap. The journey to this waterfall is so beautiful through incredible tea fields and past temples. It is just as good as the waterfall itself. 
The Tuk Tuk drop-off point is a short walk from here to Lovers Leap waterfall itself. It is beautiful and easy to navigate the rocks to climb to the fantastic viewpoint. This waterfall was our favourite out of all the waterfalls in Nuwara Eliya that we visited.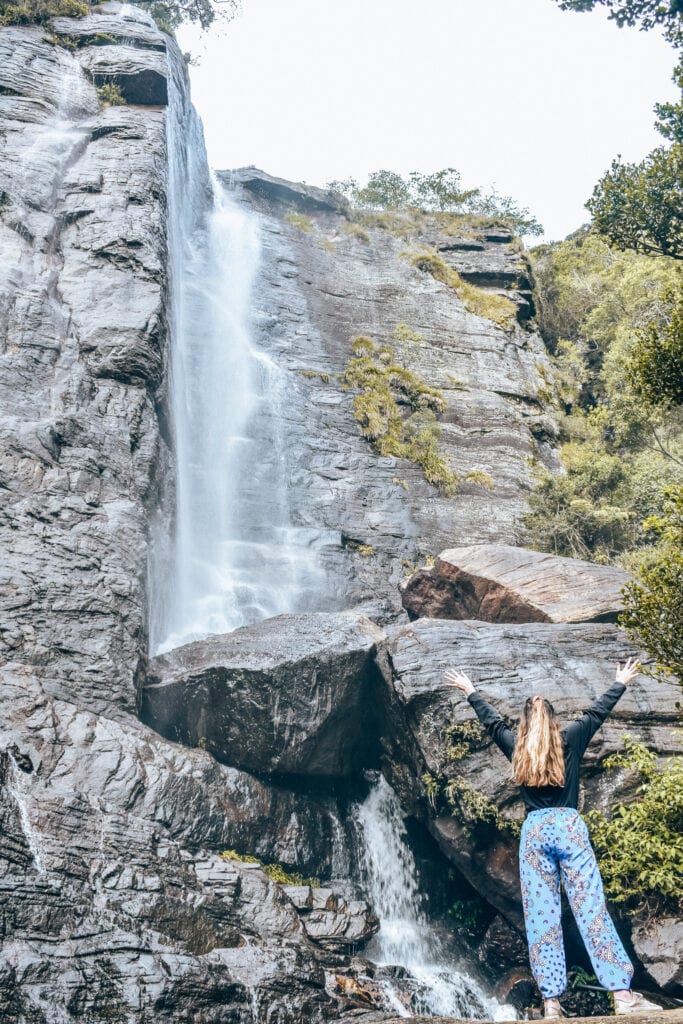 Lower Ramboda Falls
This waterfall is probably the most well-known in Nuwara Eliya. The waterfall itself is gorgeous and easy to walk to from the parking spot.
Although it is pretty touristy, one of the nice things about this waterfall is the restaurant here. Ramboda falls inn has a buffet restaurant with incredible views of the waterfall. The food was yummy, and the prices were pretty reasonable. We don't usually like these kinds of experiences; however, we would say it is worth doing. 
If you choose to eat at the restaurant from here, you can easily follow the path to the waterfall to admire this beauty.
Upper Ramboda Falls
Upper Ramboda Falls, we thought, were more impressive than Ramboda Falls. You have to pay to walk up to Upper Ramboda falls, but it is so worth it. The falls themselves are quite a walk up from the roadside. It will take around 15-20 minutes to walk up to the first waterfall and then even longer to reach the top one. The great thing about this waterfall is that it is a lot more natural and quieter than Ramboda falls itself.
The start of the trail is easy to find, with the ticket counter being right at the roadside. Google Center Ramboda Falls to find the ticket counter.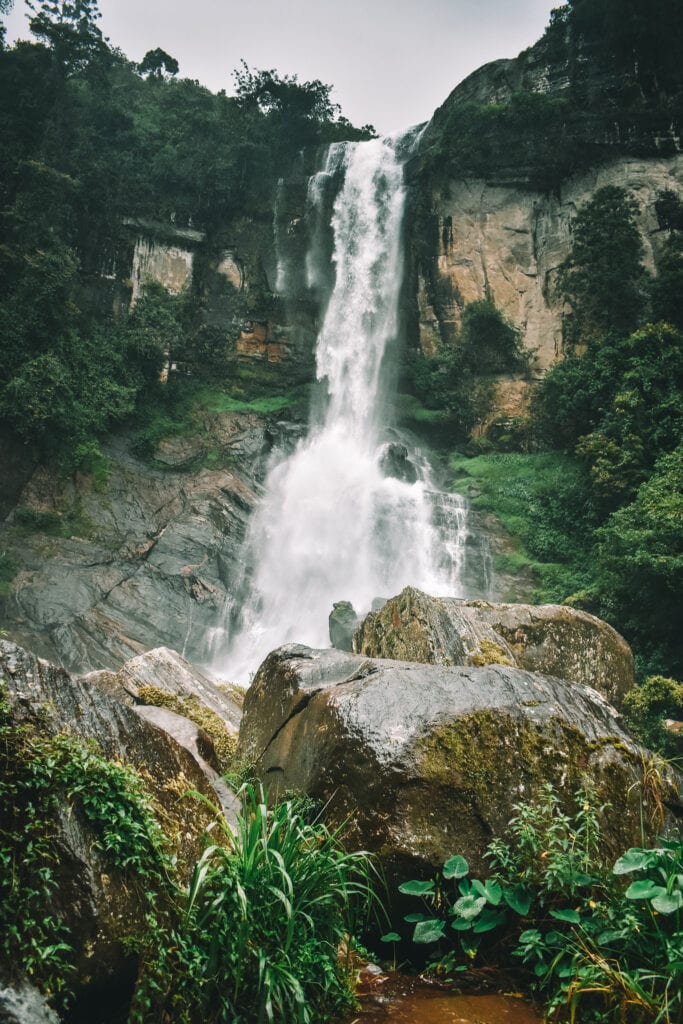 Baker Falls at Worlds End
If you choose to hike the world's end, which we strongly recommend, you would have access to the Bomberella waterfall. Even though you cannot swim here, it is a great place to rest on your walk. Take the time to have a snack or drink whilst admiring the sheer power of this waterfall.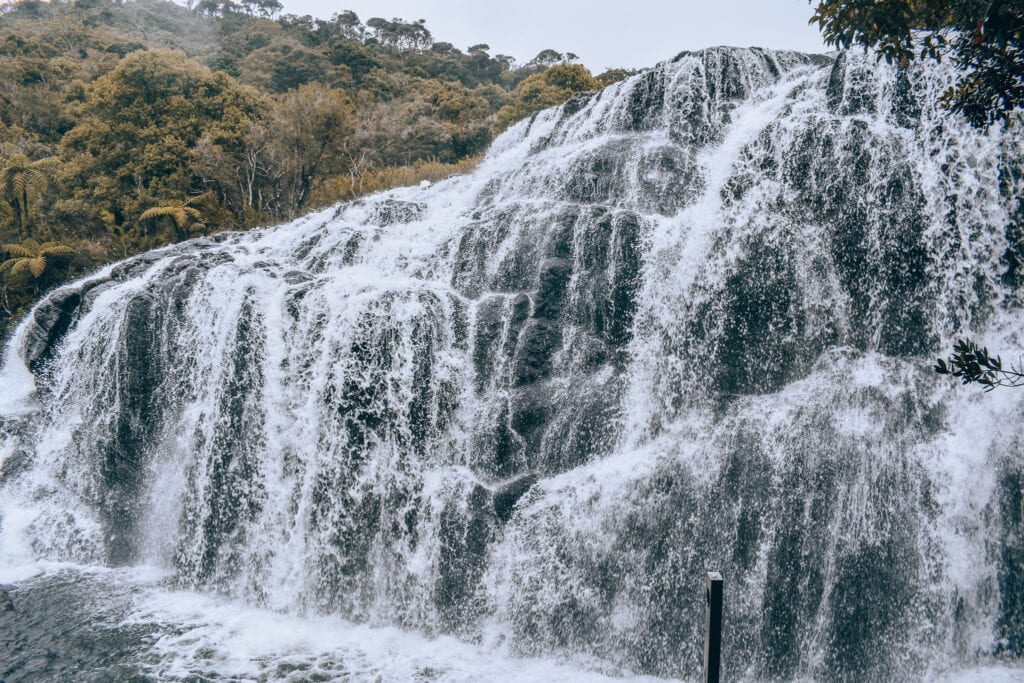 Devon Falls
Devon falls in Nuwara Eliya is a magnificent waterfall. There used to be a viewing platform right at the bottom of the falls you could hike down too. However, this has now been shut off, so you can only view this waterfall from the road. The view is stunning, but heading to another waterfall might be a better use of your time if you are short for time. If you are driving on this road anyway, then it is certainly worth a quick stop. 
St Clair Falls
St Clair
Bomburu Falls
It takes around 20 minutes to ride from Nuwara Eliya to Bomburu Falls. From here, it is around a 3-kilometre hike to see the waterfall up close. The walk-up is slightly strenuous but perfectly doable for most people. Make sure to wear comfortable shoes and be careful that the path down can be slippy after rainfall. 
Amazing waterfalls outside of Nuwara Eliya in Sri Lanka
If you are heading to Ella, or even if you are not, Diyaluma falls are simply a must-visit. Diyaluma falls a set of cascading infinity pools that lead to this incredible 220m drop. 
Where to go in Sri Lanka after Nuwara Eliya?
From Nuwara Eliya, you can head to Ella, another misty mountain town but with a different vibe. Think mountain hikes, massages and quirky cafes. 
From Nuwara Eliya you can head to Ella. The famous blue train heads straight from here to Ella and takes around 3 hours. 
Check out our Ella Guides here:
Kandy
Or you can head the other way and go to Kandy. One or two nights will more suffice to see all the highlights and the best Kandy has to offer.
Summary of the best waterfalls in Nuwara Eliya
Plot something on your Nuwara Eliya itinerary with these ten things to do in Nuwara Eliya. From its abundance of waterfalls to the famous tea plantations, it's the perfect destination. Nuwara Eliya could be your best Sri Lanka adventure yet.
What's Next?
Check out our Nuwara Eliya Posts:
Other Sri Lanka Posts: