This blog post contains affiliate links. As an AirBnB associate we may earn a small commission to fund our coffee drinking habit if you use these links to make a purchase. You will not be charged extra, and you'll keep us supplied with caffeine. It's a win for everyone, really. Check out our Disclosure policy for more.
Sigiriya is a beautiful UNESCO World Heritage site with an iconic summit. It has been described as "the mountain of a thousand temples." Like most places in Sri Lanka, Sigiriya is steeped in history. With cultural importance around every corner and awe-inspiring architecture, Sigiriya holds at its core the heart of Sri Lanka. Here is our guide to the best things to do in Sigiriya.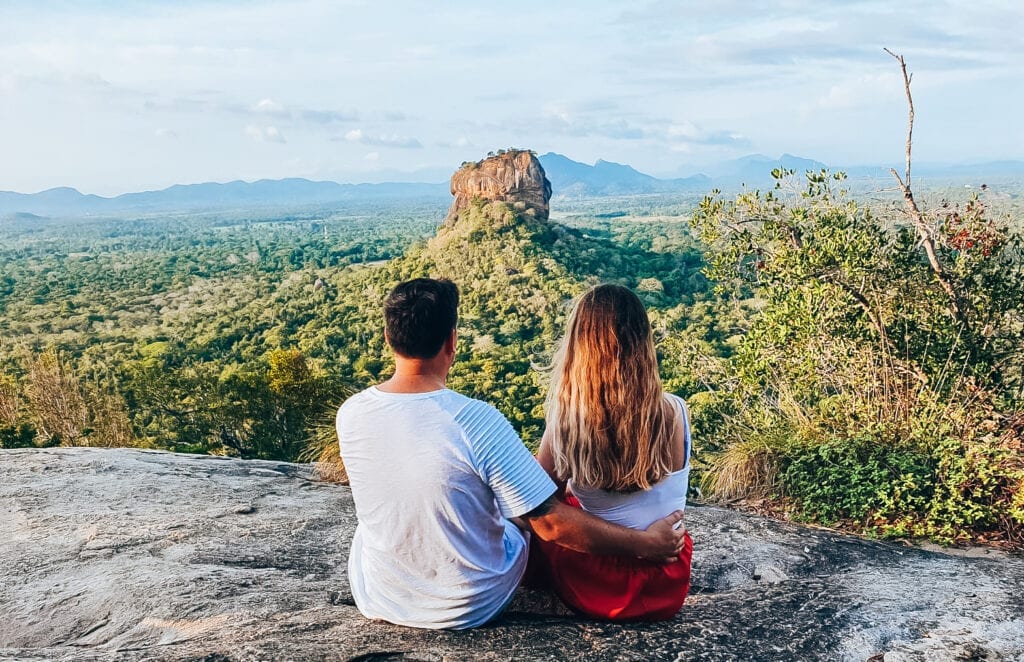 Climb Pidurangala Rock 
For the best view in Sri Lanka, head here! This one should undoubtedly be on the top of your Sigiriya Bucketlist. This was our absolute favourite thing to do in Sigiriya. Making your way through the jungle to the top of this Rock for sunrise is one of the best experiences in Sri Lanka. Once you make it to the top to be greeted with views of Lion Rock is one of the best experiences in Sri Lanka.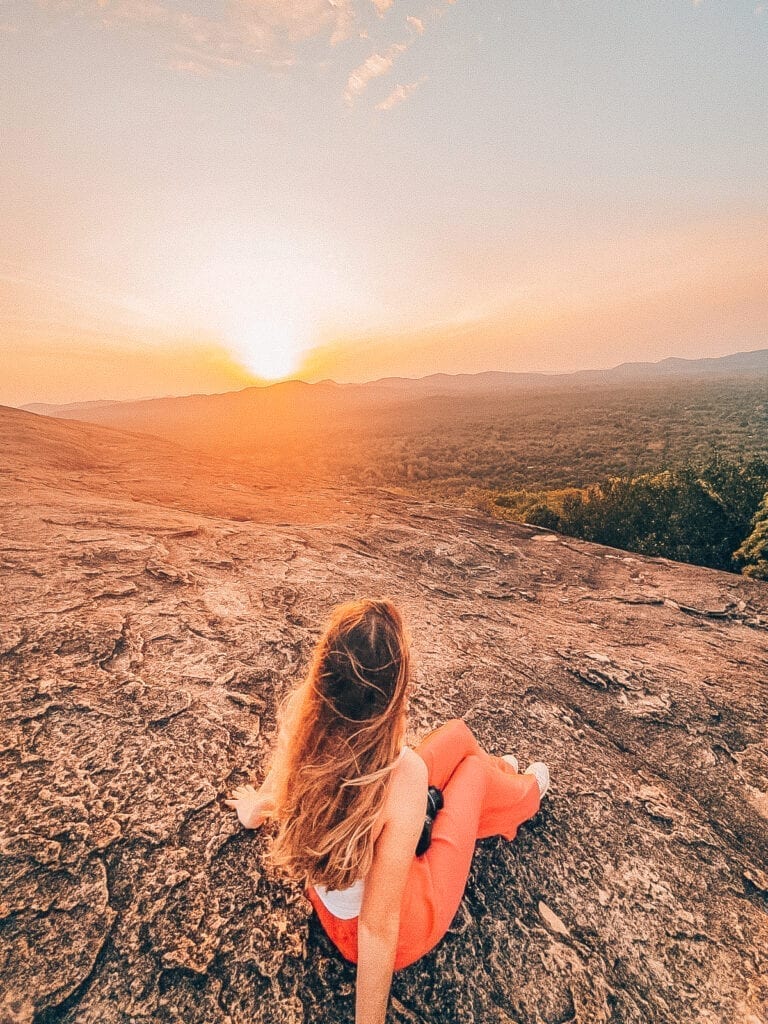 Climb Lion rock/Sigiriya Rock 
Although we recommend Pidurangala Rock over Lion Rock, to experience both would be even better! The prices to climb Lion rock are significantly higher than that of Pidurangla. For comparison, check out our guide here. If you have the time and do not mind paying the entrance fees, why not climb Lion rock to?
The ruins at the top are really beautiful and have an incredibly interesting history.
Insider Tip: If you chose to do both, make sure to do Pidurangala for sunrise and not the other way around. Lion rock doesn't open until a little later. 
Visit the Ancient City of Polonnaruwa
The Ancient City of Polonnaruwa is such an incredible display of Sri Lankan heritage. This collection of Ruins is the best in the country and makes for a fantastic day trip from Sigiriya. 
These ruins are incredibly well maintained; however, witnessing the jungle attempting to take over these ruins adds to the pure magic of this experience. 
There is a story behind every collection of ruins, and each is more interesting than the next. 
How to get here from Sigiriya 
To travel from Sigiriya to Polonnaruwa, you have to catch two buses. Catch a bus towards Dambulla (30 min, runs every 40-60 minutes) and get off at Inamaluwa Junction. Then catch another bus to Polonnaruwa (1.5 hours, at least every 30 minutes).
Details 
Cost | 3900 Sri Lankan Rupees
Anuradhapura Ruins 
Another World Heritage Site in Sigiriya. There is evidence to suggest this city existed back in the 10th century. Today it is still a sacred city for Buddhists filled with Temples and Monasteries. It is around 1.5 hours away from Sigiriya itself but a place of historical importance. 
Get a massage
Let's be honest, so far, this list involves a lot of walking. Treat yourself to an incredible massage after a long day of hiking. Sri Lanka is known for its Ayurvedic therapy, and this is the place to indulge. There are many places in Sigiriya ideal for a massage. 
Eat incredible food at a local buffet.
Gamagedara Village Foods
This restaurant is a great place to come for authentic Sri Lankan cuisine. This restaurant also offers great value for money. 
Head out on an Elephant Safari, Minneriya National Park and Kaudulla National Park 
To see elephants roam freely in their natural environment is just phenomenal.
If you are lucky, you might witness the Elephant Gathering at Minneriya National Park.
Once a year, all Elephants gather here to share the water source at Minneriya National Park during the dry season. By pure luck, we happened to be here at the exact time this even occurred. It was truly magical and just the best experience of our whole trip. 
Kaudulla National Park
<div data-gyg-href="https://widget.getyourguide.com/default/activities.frame" data-gyg-locale-code="en-US" data-gyg-widget="activities" data-gyg-number-of-items="3″ data-gyg-partner-id="QZLAE57″ data-gyg-q="Minneriya"></div>
Explore Dambulla Cave Temple/The Golden Temple of Dambulla
Although this is a little way out of Sigiriya, Dambulla Cave Temple is just beautiful. It is perfect as a stop-off if you are heading to Kandy. The Temple here requires you to climb a lot of steps, but it is so worth it. As you make your way up, you will be followed by a lot of monkeys! At the top, the views are just breathtaking before you even head into the Temple. 
The Golden Temple of Dambulla has been a sacred place for 22 centuries. It is a UNESCO heritage site and is made up of five main temples. 
Enter the Temple respectfully.
To enter the Temple, you must, of course, be covered up. You must also be mindful to not stand with your back to the Buddha statues. Photography is permitted, but you must not be in the photo if it is of a buddha.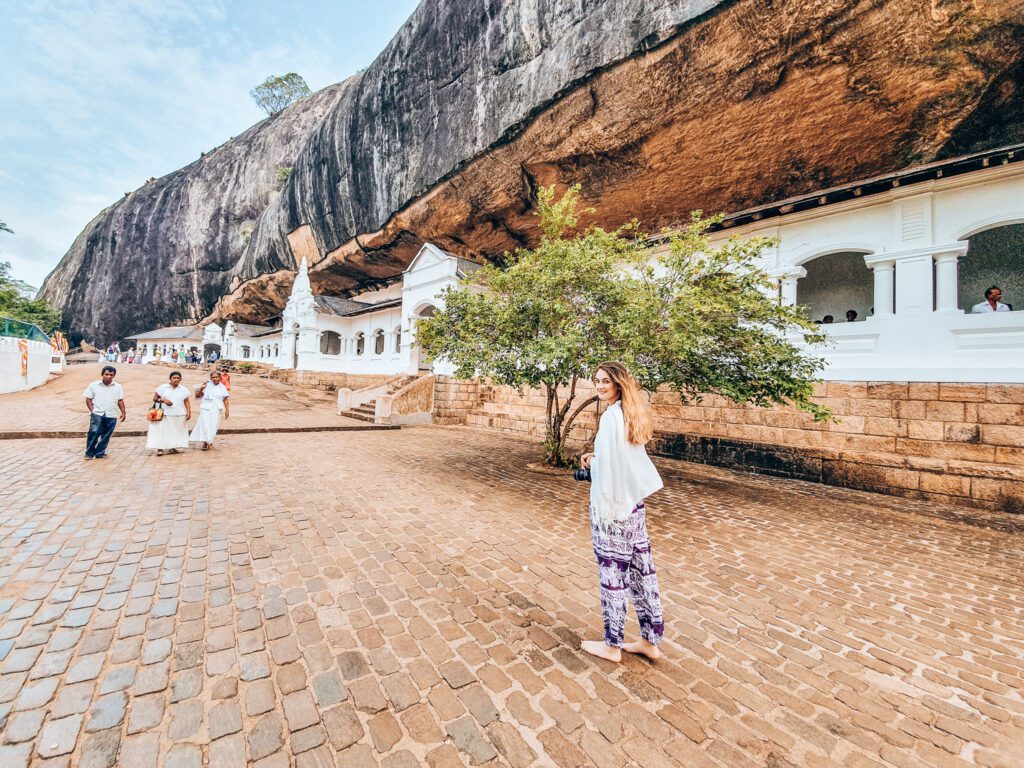 Where to stay in Sigiriya 
Aliya Resort & Spa
This resort has a gorgeous infinity pool with views of the incredible Lion Rock. Because of its remote location, it is also the perfect place to stargaze after a long day of exploring. This hotel is nothing short of spectacular.
If you want to stay in the heart of Sigiriya and only stones, throw away from Lion Rock; this is for you. This hotel is so unique, and its proximity to Lion rock makes it a bucket-list stay. 
Staying at this Eco Village is such an incredible experience! The rooms are traditional and straightforward but with all the home comforts. 
This really is as close to the jungle as you can get and a real escape. The pool is beautiful, and you are guaranteed serenity here. 
How long do you need in Sigiriya? 
Two nights is perfect. Of course, you can stay longer if you want to chill at your hotel. We stayed for two nights, but we had little to no downtime. 
How to Travel around Sigiriya 
Tuk Tuk 
Did you know? You can hire a Tuk Tuk to drive around yourself! It can be such a fun and unique experience to travel this diverse landscape. 
Taxi
Taxi's around Sri Lanka can be really cheap and a great way to travel. Especially if you are doing long distances or if you have heavy bags. 
How to get to Sigiriya from Colombo 
Train
The quickest way to reach Sigiriya from Colombo is by train. The journey takes roughly an hour and a half and costs around 100,000 Sri Lankan Rupees.
Bus
The second quickest route to Sigiriya is by bus. It will take around four and a half hours but cost 80,000 Sri Lankan Rupees.
Where to go after Sigiriya 
Kandy 
Kandy is a place of historical importance in Sri Lanka. With the Temple of the tooth, it's almost a rite of passage to add Kandy to your list. We only stopped for one night and then headed to Nuwara Eliya. We found that to be perfectly adequate to soak what Kandy has to offer. 
Nuwara Eliya 
Take the famous blue train from Kandy and head into the land where the mountains and the clouds meet. Nuwara Eliya has an entirely different climate from the other parts of Sri Lanka and makes for a unique stay. There is so much to do in Nuwara Eliya, full of waterfalls and tea plantations. Check out our guide here. 
Trincomalee 
If you have your heart set on soaking up some Sri Lankan sun, head to Trincomalee. Filled with beautiful beaches, colourful temples, and so much more, this part of Sri Lanka is just incredible. 
Summary of the best things to do in Sigiriya 
We hope you enjoyed our guide to the best things to do in Sigiriya. It is the heart of Sri Lanka, and you can't set foot in this country without the intention to visit. It is so unique and yet still captures the beauty of this whole country. 
What's Next?
Meta's description: Sigiriya UNESCO World Heritage Site. Discover the many things this Sri Lankan Valley has to offer.
Check out our other Sri Lanka posts here: